That TechBee edge: How HCL's brainchild is giving +2 grads IT skills and a shot at a college degree
Can you ask for anything better than earning and learning at the same time? HCL's TechBee Programme is one allows people with a class 12 certificate to earn and pursue their higher education at the same time. Designed for a duration of 12 months, this programme gives them hands-on experience and helps them develop skills required for entry-level jobs like coding, designing, testing and much more that our IT sector needs. We speak to Srimathi Shivashankar, Corporate Vice President and Program Director- New Vistas, HCL Technologies to know more about TechBee and what their plans are after the pandemic. Excerpts from an interview:
Let's go back in time. Today, we know that TechBee has helped hundreds of youngsters across India get jobs. Can you tell us how it all began?
We began this programme in 2017 looking at larger employability problems. We thought we must start a programme for class 12 students who have the right attitude and aptitude to train for entry-level jobs in the Information and Technology sector and can also pursue their higher education. If you really look back, students have always been part and parcel of India's economic growth. Most of us would have started our career at an early stage. Hence, we decided to start one such programme that will help the students get hands-on experience at HCL at their early age and not compromise on higher education too. We first piloted this programme in Tamil Nadu, Uttar Pradesh and so on.
We found that people are eager to take up this programme and get jobs early. There is a cohort of people today in this country who need to earn while they learn. Many people think that we are training these youngsters to replace the existing engineers in the company. This is not true because there are new job roles in the IT sector and only youngsters can fulfill these roles with their innovative thinking. When new people come, they need not unlearn to learn anything. They pick up the skills faster than anybody else.
How many students have been benefited from this programme? What kind of gender ratio are you seeing as compared to the general IT workforce?
In the past few years, we have trained over 2,000 students in this programme. This year, we have opened up this programme for students across India and not just a few states in the country. You will be surprised to know that the ratio of boys to girls has been 60:40. Basically, we have an entrance exam called HCL SAT which is an online test where we look at the student's quantitative, logical reasoning and language abilities. Once they pass this exam with good scores, we interview and counsel them to know their interests and take them on board. There is no particular number or strength of students attached to this programme but we look for students who can work and manage their higher studies at the same time. Not everyone is prepared mentally to do it.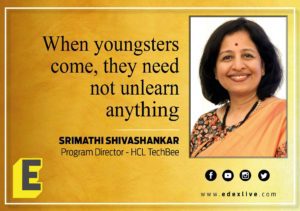 How is the course designed? After all, it only lasts for 12 months.
Initially, we teach them the basic concepts in the IT sector. They need to understand the essence of what they are going to do in engineering and it equips the candidate with IT fundamentals. The next step involves technology or domain training that includes specific training to ensure that the students learn key concepts. And the final step is all about professional practice training that includes hands-on experience in HCL. They will also have access to learning management systems, peer-based discussions, online assessments and assignments. More importantly, students will be given a stipend of Rs 10,000 per month from the month of training. And with the full-time employment, they get the salaries that our freshers get at the entry-level.
With the COVID-19 outbreak, are you planning to take this programme online?
We have our own learning management system in place and with our own online platforms available, we conducted some of the classes online this last year. We believe that some concepts have to be learnt only by doing them practically. Since these students are youngsters, teachers teach them the concepts and they learn to do activities by themselves. Fortunately, we have been able to provide blended learning for these students. Of course, students will be divided into batches if they have to attend practical classes.
What will the students do once the programme is completed? Is there a guarantee of a job?
We have tied up with SASTRA Deemed-to-be University and BITS Pilani. Hence, once they complete our 12-month programme, they can pursue a BSc in Design and Computing or they can take up BCA and MCA programmes. We also fund their higher education which is a double delight for these students. The content that we include in this programme is in sync with the curriculum in higher education.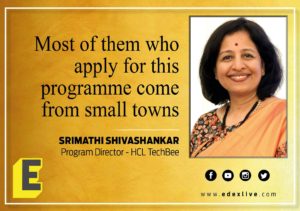 Any particular success stories that you remember from this programme that have stayed with you?
Most of them who apply for this programme come from small towns and humble backgrounds who want to come to the big city and achieve their goals. There is a girl called Pechi Ammal from a village near Madurai whose mother worked as a house help. She finished her 12th standard with 96 per cent. She applied for our programme and qualified. She has been working with us for the past two years which, otherwise, she would not have been able to do due to poverty. This girl's story has touched my heart among many others.
So, what comes next? What are the future plans for this programme?
We want as many youngsters as possible to join our programme because it is only they who can think in a unique and innovative way that can help us in the field of Information and Technology.