Subbaraman Balasubramanyan, Sr. Vice President, HCLTech talks to Nimisha Tiwari about India's potential to build a tech-enabled creator economy where students and academia can play a pivotal role. Subba (as he is popularly known) is armed with 25+ years of global IT business experience and is leading TechBee – HCL's Early Career Program. Being a proud member of the CEOs Club at HCLTech, his entrepreneurial mindset has been his winning quality as the immediate-past-Chairperson of CII Madurai Zone
Q1: Technology is evidently moving faster and upgrading multiple times in comparison to our Indian Education System. How should students and teachers build NextGen skillsets that remain relevant?
Subbaraman B: Truly, every two to three years, we see technologies evolving. By the time a student completes the academic class, technology that seemed relevant for the industry would have already changed (most likely). At HCLTech, we understand that skills that are being taught or used today may not remain relevant after the next decade or two. For example, Data Analytics or Application Development or Infrastructure Management or be it skills for Artificial Intelligence, Blockchain – whatever is relevant for our business today, at HCLTech, we would want to give skills for these subjects.
As we are in the IT services business, it is the IT environment of the end customer that we end up delivering services. So, the pace at which our customers change technology usage in their IT environment really tends to decide what wat HCLTech need to pay attention to.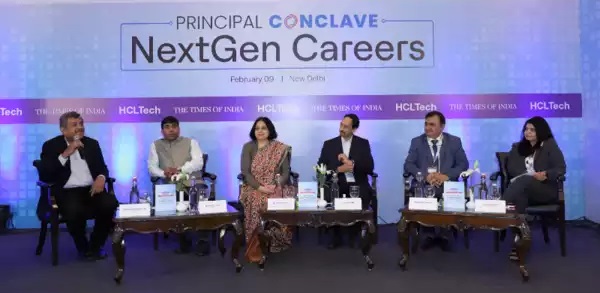 Times of India-HCLTech Principal Conclave was successfully organized on February 9, 2023 in New Delhi
Q2: What do students want, and what are the teachers teaching today – Is there any syncing really happening?
Subbaraman B: Of late, we are witnessing tremendous interest from the teaching community in India. They indeed wish to upskill themselves so that they can stay relevant and provide the right insights to the students. HCLTech attempts to provide the right bridge by way of Principal Conclaves (The Times of India – HCLTech Principal Conclave was organized in Lucknow on December 7, 2022, and in New Delhi on February 9, 2023). We make efforts to provide a true perspective of where the technology is heading and ways to keep teachers abreast so they can deliver value to their students. Looking at it from the second perspective, we believe that students learning through TechBee 
HCL's Early Career Program will be the innovators of new technologies of the future. These young minds will create the technology that will be relevant and required for them in the future.
For a child in today's world, right from their prenatal and neonatal days, they witness technology around them. Thus, they will have much easier adaptation to existing technologies of their times (in the years to come). It will be very natural for them to create technology (in comparison to GenX or Gen Y), which is like a decade from today.
Q3: The theme for Principal Conclave was NextGen Careers. What were your key takeaways?
Subbaraman B: The levels of engagement that I saw in the Principal Conclave in 2023 were higher compared to what I had witnessed in the past. The teachers wished to enhance their own knowledge quotient in order to deliver realistically. One person at the conclave asked me – Can we do an internship for my students? My response was – You, as a principal and your teachers must be the first interns before the students become interns. You need to know where technology is and where the industries are heading. This can be done collectively, and it's not just up to HCLTech as a singular organization. Many other companies will need to step in for a major change to take place in society for students and teachers to become aware of the most relevant technology. Representatives of CBSE and NCERT – their presence at the Principal Conclave in New Delhi this year, added a lot of value because newer perspectives were brought in. Saying, 'We will go back and make changes in our academic structure in order to enable programs like TechBee' – This was a very big takeaway, and I truly liked it.

Q4: What does 'workforce of the future' entail?
Subbaraman B: As a society, we need to start orienting people to understand technology right from school days and lay the foundation for it. For instance, when biology is taught, students are taught about molecules and how genome sequencing takes place. We must enhance the knowledge base by showing possible use cases to students. This must get implemented into the framework of multiple State Education Boards and Central Government Boards, where the pedagogy includes some of these effective perspectives. A structural change needs to take place. This is one small way to create a workforce that is ready for the future. Through our TechBee program, we have been finding sparks of excellence across the country, not necessarily from metros alone.
Q5: What are your views on the democratization of education and gender-smart attitude for the future workforce.
Subbaraman B: India is on the right path of transformation. As a nation, we must touch every last person, at the remotest corners of the country through education that is relevant, especially educating a girl child and educating the woman because they are the determinants – this is a very personal view. At the rate at which technology is moving, we need to have enough research parks across the country in order to democratize technology-based education. Women empowerment is very important, and we, being an equal opportunity employer, our work environment offers anyone to find their own unique spark at HCLTech. For our society to progress, we need to develop an ecosystem that will make technological advancements accessible, inclusive and a key driver of change.
For more details on skilling students by HCLTech, log on to: https://www.hcltechbee.com